A dear friend gave me this recipe. She calls it Thai Soup, but I call it Immune-Boosting Soup.  I cook all of my bone-in chicken in my Instant Pot, which gives me a beautiful bone broth. There's no need to further cook the bones. Chicken cooks in about 25 minutes, and produces a beautiful gelatin.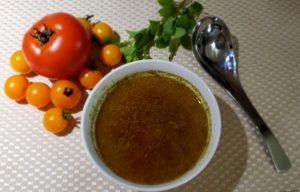 Make it Strong or Weak
I made an extremely strong batch of this soup using water instead of chicken stock/bone broth, and froze it in small batches in freezer-safe Mason jars. After thawing, I added the fresh bone broth and then heated it–YUM. If you find you made your batch too strong (too much garlic, ginger, lemongrass, or cayenne), just add more chicken stock/bone broth.
I apologize that there aren't any amounts in the first ingredient list. If you've done enough cooking, you'll know just how much to add of each.
I've added Thai Soup #2 with the amounts I used in my latest batch. This batch could have been a little stronger–maybe less water.
Thai Soup
Ingredients
Chicken stock or bone broth
Garlic
Ginger
Onion
Mushrooms
Carrots
Lemongrass, Dried or Fresh
*If you don't have fresh tomatoes, it's okay to use canned.
Instructions
After cutting up ingredients into bite size pieces, slow simmer in a pot for about 45 minutes, being careful not to boil the broth/stock away.
Recipe With Ingredient Quantities – Thai #2
You might want to adjust quantities in this recipe, but this gives you a starting point. I've specified Shitake Mushrooms in this recipe, since they are known as the best for the immune system, but any mushrooms will do.
Thai Soup #2
This recipe includes the quantities I used in my soup.
Ingredients
32 ounces homemade chicken broth, or 2 16.9 oz Boxes of Bone Broth (or Chicken Stock)
6 Garlic Cloves, pressed
Thumb-size Ginger Root (about 3 tablespoons, sliced or shredded)
1 Teaspoon Organic Dried Turmeric Powder (or 3-inches of fresh)
*3 Medium to Large Tomatoes, blanched with skin removed and diced, or a 15-ouce can of Diced Tomatoes
⅛ Teaspoon Cayenne
1 Medium to Large Diced Onion
1 Cup Shitake (or any) Mushrooms
3 Carrots, sliced
2 Tablespoons Dried Lemongrass or ½ cup chopped fresh Lemongrass
Extra tomatoes or water can be added if soup tastes too "hot."
Instructions
After cutting up ingredients into bite-size pieces, place all ingredients in a medium size pot and slow simmer for about 45 minutes. Stir occasionally and be careful not to boil the liquid away.