I wouldn't have believed it if I hadn't tried it myself. I purchased a vintage, glass bread pan at my local thrift store. It was a baked-on mess, but I convinced myself I had the necessary cleaning supplies to get it sparkling in no time. Well, with a little elbow grease, of course! It turned out it took lots of elbow grease to accomplish nothing. Even using a magic foam eraser and my stove-top cleaner, I hadn't made much progress. This is what it still looked like: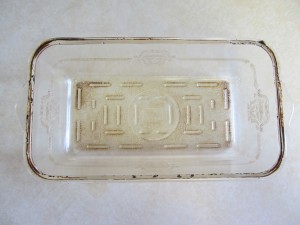 What a waste of my time! Into the outgoing thrift-store box it went. A month or two went by, the box still sat there waiting for me to drop it off, and a friend stopped by. The conversation somehow moved to: getting baked-on crud off baking pans. She said she knew a way to get them clean. I immediately thought of my cute little bread pan and retrieved it. Here's what she told me: put it in a plastic bag with a tablespoon of ammonia and let it sit overnight. I said, "Okay, what do I have to lose except a tablespoon of ammonia and a plastic bag?" I tried and honestly, a little bit came off, but there wasn't a whole lot of improvement.
So I decided maybe I hadn't left it in the bag for long enough. Maybe overnight wasn't enough. I'd try it again and leave it longer. Again, I  put ammonia in the pan, the pan into a large zipper bag and placed it in my garage.
Hiding in my garage, I actually forgot about it for a couple weeks. I took it out and I have to say, I was surprised. After washing, rinsing, and without any elbow grease, this is what it looked like: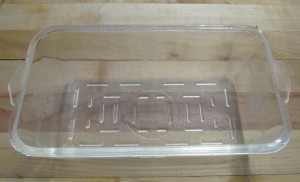 Thanks, Sue!
PLEASE be careful when using ammonia—it's EXPLOSIVE! Please wear gloves, eye protection, and protect yourself from breathing it!