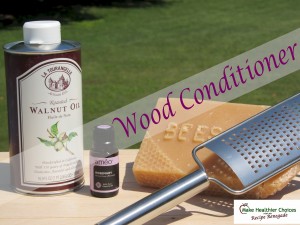 I love this conditioner for my wooden cutting boards – three simple ingredients and easy to make. Even though the rosemary essential oil is antibacterial, I never use my wooden boards for meats. I also don't use wooden cutting boards that I've treated with this conditioner for anything I plan to ferment, like cabbage for sauerkraut. Rosemary Essential Oil is antibacterial and can impede the fermentation process by killing the good bacteria.

Wood Conditioner
Instructions
In small stainless-steel pot, on low heat, warm walnut oil and beeswax until beeswax is melted.
Remove from burner and add Améo rosemary essential oil.
Pour into glass jar and let cool completely before using.
With a soft cloth, rub a small amount into cutting board and let sit for 5 minutes.
Polish with a second soft cloth.
Looking for clinical-grade essential oils (essential oils that contain the same constituents as those used in clinical studies)? Please check out 
Ameo.com
. Email me with any questions at lynn at makehealthierchoices dot com.