I don't know where my niece, Katherine, found the original White Chicken Chili recipe, but after tweaking it a bit it is now a family favorite!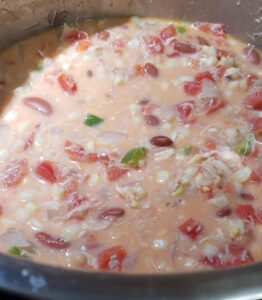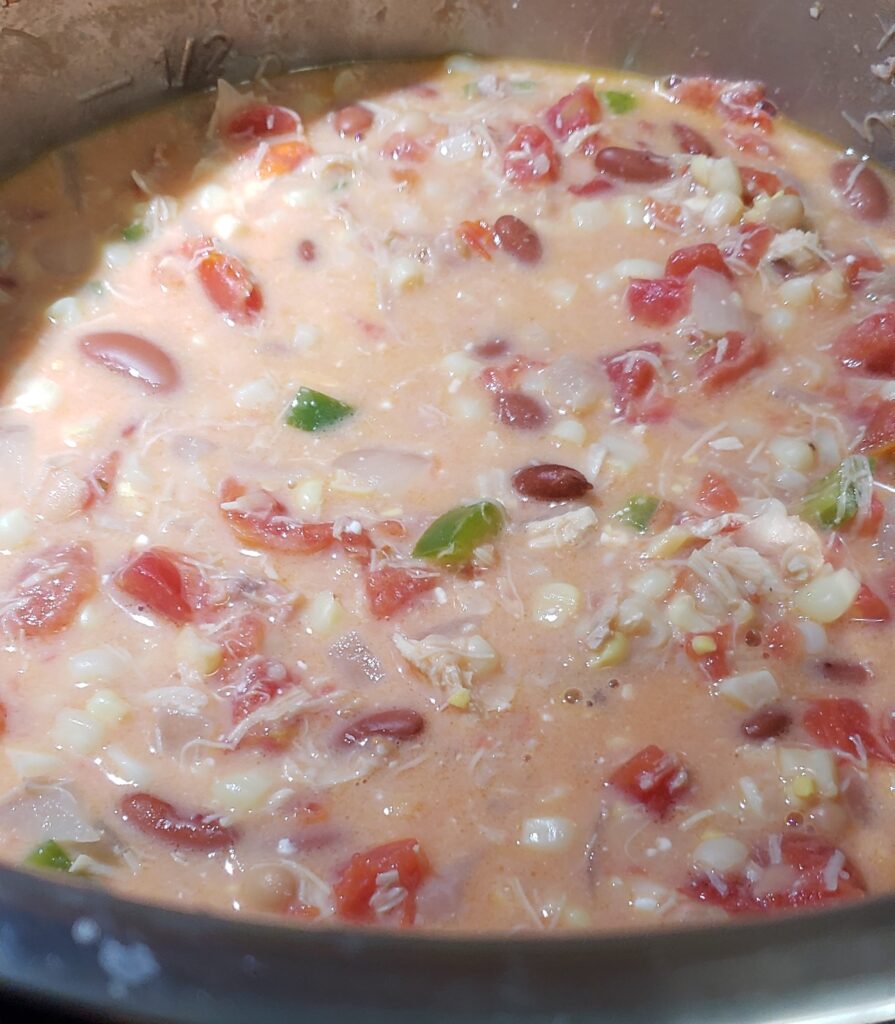 Katherine's White Chicken Chili
Ingredients
1 Medium Onion, diced
1 Large Chicken Breast (Boneless)
1 15-Ounce Can Black or Kidney Beans (Drained and Rinsed)
1 15-Ounce Can of White Beans (Drained and Rinsed)
Corn removed from 3 cobs (or 15-ounces frozen)
1 10-ounce can Organic Diced Tomatoes (or Rotel diced tomatoes with Green Chilis)
1 Cup Chicken Bone Broth or Chicken Broth
1 8-Ounce Package of Organic Cream Cheese
OPTIONAL:
Chili Powder to taste
Small can of Chili Peppers
Instructions
Sauté diced onion on stovetop or in Instant Pot. (I sometimes don't bother to sauté first.)
Add raw chicken cut into bite-size pieces (or plan to shred it later) and brown for a couple of minutes.
Add bone broth and tomatoes; simmer for about 10 to 15 minutes or until chicken is done.
Add remaining ingredients and heat through.
NOTE: If your chicken is already cooked, there is no need to "cook" anything; just heat it all up!
Instant Pot or Stove Top
When I make this recipe, I don't usually measure anything; I guestimate and it all goes into my Instant Pot. Cooking it on the stove top also works well. I always cook my bone-in, local chicken in my Instant Pot which makes beautiful bone broth. Cooking it ahead of time, and freezing both the broth and the deboned chicken, saves time when I'm ready to make this recipe. I always strain the bone broth to be certain there are no bones.
Is BT Corn Safe for Human Consumption?
I have not used canned corn in about 15 years since I learned that corn is regulated by the EPA, not the FDA. Canned corn is usually BT corn, unless it's organic. BT is short for Bacillus thuringiensis, a toxin extracted from soil. It was genetically modified into the corn so that pesticides would not need to be used on the outside of the corn. BT pokes holes in the insect's stomach and causes their gut to explode, thereby killing them. Is it safe for humans? You'll have to decide that for yourself. BT corn has been around for such a long time that insects are now becoming immune to the BT toxin.