Do You Eat Pork?
I don't eat a lot of pork—an occasional bacon for breakfast, maybe a ham for Easter and sometimes home made pork sausage. I only buy local pork and try to keep it to a minimum. Like Dr. Axe says: You eat pork; you have parasites. I don't worry much about parasites; I fuel my body with no less than a couple handfuls of moringa oleifera every day. Moringa oleifera is said to be anti-parasitic, anti-bacterial, anti-fungal, and anti-viral.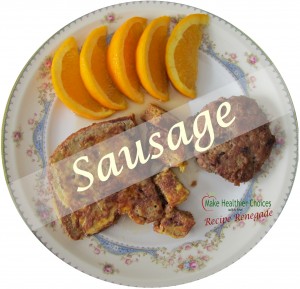 I realized if I wanted to avoid pork, I'd have to find another way to make sausage. I was pleasantly surprised when I deviated from pork in this recipe. The first time I made it, I only used half a pound of beef for fear of ruining the entire pound—it was delicious! I've not yet tried this recipe with ground chicken or ground turkey, but I'm guessing the ground fennel might need to be replaced with ground rosemary. But that's only a guess. When I've had a chance to make these with poultry, I'll update this page.

Sausage
Ingredients
1 Pound Grass-Fed Ground Beef (or Ground Pork)
Instructions
Mix all ingredients in stand mixer until well blended.
Divide into 6 or 8 sections and make patties. (I use an old-fashioned ice-cream scoop to measure and flatten in my clean hands.)
Cook in cast iron pan on medium heat for approximately 4 to 5 minutes on each side or until completely cooked through to middle. The thicker the patty, the longer it will take to cook.
Click below for more information about Zija International's bioavailable, enzymatically alive moringa oleifera: