This easy-to-make Bok Choy Ginger Salad is sweet and tangy with a slight bit of heat from the ginger and garlic!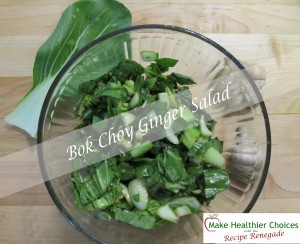 Bok Choy Ginger Salad - Gluten Free
This is a refreshing, sweet and spicy salad.
Ingredients
2 Baby Bok Choy or 1 Mature Bok Choy
2 Tablespoons Bragg's Amino Acid
1 Tablespoon Rice or Apple Cider Vinegar
1 Pressed Garlic Clove (+/-)
2 Teaspoons Freshly Grated Ginger (+/-)
1 Tablespoon Sesame Oil
1 Tablespoon Muscovado

Garlic and Ginger can be reduced or more can be added depending on your personal preference.
Instructions
Chop bok choy into bite-size pieces. Combine all ingredients and toss until bok choy is completely coated and sauce is well mixed. Let sit for about 20 minutes.

*Please note this is also delicious warm. After mixing all ingredients, stir fry over medium heat for a couple minutes or just until warm.