Tired of zucchini bread? Don't live in Vermont so you can't stash your extra zucchini through open windows in random cars?  Well, at least not without getting arrested. Looking for new ways to eat zucchini? If you have an over abundance of zucchini, a better way to get rid of them is to preserve them by dehydrating. This works well with any type of summer squash—zucchini, patty pan, crook neck, straight neck, etc. Especially zucchini. These chips are a healthy snack and great for dips like salsa, guacamole, onion dip, etc. They can also be crumbled into soups on a cold, fall or winter day.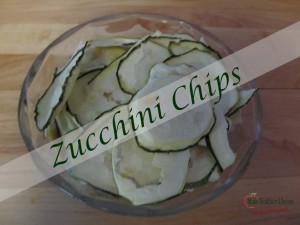 Zucchini Chips
These zucchini chips are great to use for dips - salsa, onion dip, guacamole, etc.
Ingredients
Zucchini (however many you can fit in your dehydrator)
Himalayan Salt
Instructions
Slice zucchini about 3/16" thick.
Lightly salt.
Place in dehydrator and run at 135° for approximately 10 to 12 hours or until completely dried.
Store in tightly sealed bag with desiccant.
After dehydrating, I place my chips into a vacuum-seal bag. Leaving it full of air, I add a desiccant, and seal without first vacuuming.
Please note: These chips need to be cut the correct width. If they are cut too thin they will stick to the trays and be hard to remove. If they are too thick, they will not be chip-like and slightly tough. If they're too big or small, keep them for winter soups.