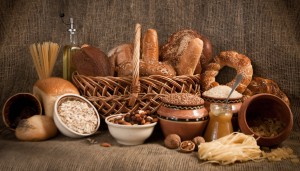 The words "healthy" and "natural" seem to have the exact same meaning these days—absolutely nothing! Let's face it, EVERYTHING comes from the earth since we are not yet importing from Mars. Wouldn't it be great if "natural" not only meant it came directly from the earth, but also meant "untainted by man."
Whole-Grain Pasta and Bread
The food industry tricks us into thinking that pastas and breads are "whole grains" by putting the word, "whole grain," on the label. Both are made from flour that not only had vital nutrients removed, but had synthetic vitamins added. Yes flour is made from a whole grain, but that doesn't mean flour IS a whole grain; it's not. No matter how we cook pasta, it will never turn back into flour nor will it ever turn back into a whole grain. Bread is the same—no matter how we slice it, it will never turn into a whole grain. Wheat berries are a grain; flour is not.
Dr. William Davis in his book Wheat Belly said, "Thirty years ago, nutritionists established the fact that wheat increases blood sugar more profoundly than table sugar."
Dr. Joshua Plant nicely explains what the food industry is doing to wheat: "…We are products . . . of the food industry that has intentionally robbed . . . food . . . of nutrition. The reason . . .  is that it is less filling and is more addictive when the nutrition is removed. Bread. It used to be brown, full of wheat germ and wheat bran and now we see bread that is white or bread that is dyed with caramel coloring to give you the impression it's whole wheat. In actuality, the food—the wheat bran and the wheat germ, were removed from the bread (from the wheat) so that it stimulates a higher dopamine response in our blood system causing it to be more addictive—to give our bodies the feeling of it not being full makes us consume bread after bread after bread which drives the food industry's profits and revenues. We need to get our nutrition from food…."
A Little History about Wheat
Most of us know wheat is hybridized, but not everyone knows that in 1917 wheat was invented (hybridized) by putting three species of grasses together. You probably think I'm wrong, but please read on.
February 28, 2001, I watched a 60 Minutes segment called What Have They Done to Our Food?  It was about genetic engineering. I wanted to learn why scientists might want to inject the DNA of a flounder into a tomato, which sounded like a crazy idea to me. I wasn't expecting to learn about something I ate almost every single day. If anyone had been watching me, they would have thought I was a German Shepard hearing the mailman arrive when Elliot Entis said:
". . .we first began to cross-pollinate crops and breed mutant monsters like wheat, which is a hybrid of three separate grass species."
Wow! Mutant monsters? Three separate grasses? 
Those words kept repeating over and over in my head, and inspired me to learn more about wheat. I didn't like that wheat isn't a God-given food. I'm not a scientist. I'm not a doctor. I am, however, a sponge. I listen to those who have more knowledge, absorb whatever I can, and do my best to use common sense to decipher the information. The more I learned about wheat, the happier I became that I'd given it up as a staple for myself and my family.
So as it turns out, and according to Keeping Up With Research 136 , traditional wheat doesn't grow well in the United States. Settlers brought wheat seeds here, and it just simply didn't grow well. Many crops were lost. "Most of the improved varieties . . .  were developed at Kansas State University (K-State). Between 1917 and 2003, thirty-six varieties of wheat have been released." Honestly, I am no expert, but I'd have to guess that this hybridized wheat might not be all that good for us.
What I do know is that when wheat is commercially made into flour for supermarket shelves, it is something drastically different from home-ground wheat berries.
By now, you're probably saying, "so what's the big deal?" Read on.
How Flour is Made for Bread and Pasta
It's important to know what happens to wheat when it is processed into flour. According to wholetruth.org, "Once the bran has been damaged or cracked open, the inner elements are exposed to oxygen, which destroys the vitamins and oils in just a short period of time."
Since the oils quickly go rancid, it would be impossible for flour to sit for weeks or months without going bad. This is why the oil is removed. Seeing "enriched" on the label tells us that synthetic vitamins (drugs) are added back into flour before it leaves the factory.
Durum wheat is made into semolina flour—the most popular flour for making pasta. Mitsidesgroup.com tells us, "The grinding is done in stages where the wheat kernel is broken until the inner part of the grain (endosperm) is separated from the outer skin (bran). The milling derivative is then sieved to remove all bran leaving behind pure semolina." Wheat can't be a "whole grain" without the bran.
Gluten Intolerance or Glyphosate Intolerance?
As I said, I'm not a doctor nor a scientist, but I don't believe gluten is the primary cause of Celiac disease. Is "gluten intolerance" strictly caused by the fact that wheat now has a high gluten content? Or is it more to do with the fact that wheat is sprayed with glyphosate before harvest? Could gluten intolerance actually be "glyphosate intolerance?" I didn't come up with this idea on my own.
The National Institutes of Health mentions in an article about celiac disease: "Here, we propose that glyphosate, the active ingredient in the herbicide, Roundup®, is the most important causal factor in this epidemic. Fish exposed to glyphosate develop digestive problems that are reminiscent of celiac disease . . . Deficiencies in iron, cobalt, molybdenum, copper and other rare metals associated with celiac disease can be attributed to glyphosate's strong ability to chelate these elements . . . Glyphosate residues in wheat and other crops are likely increasing recently due to the growing practice of crop desiccation just prior to the harvest." (Sugar cane is another crop that's also sprayed with glyphosate.)
This doesn't mean that all wheat is sprayed with weed killer. If the label says "organic," it should not have been exposed to pesticides, insecticides, or herbicides (glyphosate). Unfortunately, testing shows that even some organic wheat contains glyphosate. And unless it's ancient wheat like einkorn, it is most likely hybridized.
It Must be Bad—It's All Carbs
Oh, yeah, I almost forgot. Wheat might be high in carbs, but so are fruits and vegetables. The difference in "healthy" and "not healthy" when related to food is whether that food contains nutrition. Fruits and vegetables contain so much more than carbs; they're loaded with vitamins, minerals, and fiber if they are correctly grown. Unfortunately, our food doesn't give us the same nutrients today that we got in the 1960s. (In case you're wondering, scientists agree that we have to eat forty cups of spinach today to get the same nutrition we got in one cup of spinach in 1960.)
Here's What I Think
Both vitamins and oils are destroyed when flour is processed, and glyphosate chelates nutrients. So what makes wheat a healthy food? What do you think? Do you think wheat is a health food? Does a "whole-grain" label make it healthy? Please let me know, in the comments below whether you think wheat is, or is not a "healthy" food.
Jovial's Einkorn flour is my favorite, and the only flour I use. Tropical Traditions carries glyphosate-free flours. If you use my affiliate link to place your first order with them, you will receive the book, Virgin Coconut Oil: How it has changed people's lives and how it can change yours!, for free and I will receive a discount coupon for referring you.
UPDATE: 1-1-2018 Jovial's Einkorn Flour is out of stock at Tropical Traditions. Lucky Vitamin sells it for a good price.
UPDATE: Thanksgiving 2015 I asked my daughter if she noticed anything different about the stuffing (her favorite of the Thanksgiving meal that this year contained bread made with Jovial's Einkorn Flour) and she replied, "Yeah. I don't feel horrible."
A recipe in my Facebook news feed, touted as "healthy," inspired me to write this article. You can read about that here: Are You Still Eating Wheat? Facebook Inspiration
Article Summary:
Wheat sold in the United States was invented in the US in 1917 by hybridizing three separate grass species.

Wheat today has much more gluten than heritage wheat.

The flour-making process destroys important nutrients.

Before harvest, wheat is sprayed with glyphosate which chelates nutrients from our bodies.

Synthetic vitamins are added to flour.

The food industry removes nutrients from food products, which elicits a dopamine response and makes them more addictive.
I'd highly recommend this bread machine (it even has a gluten-free setting):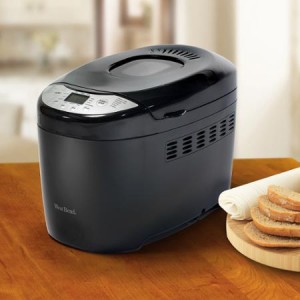 Here's a healthier choice for white bread: Milk Kefir Bread
Dr. Joshua Plant taped call  http://tapeacall.com/zkcurzfyzv
Transcript What Have They Done to Our Food?  http://www.cbsnews.com/news/what-have-they-done-to-our-food-28-02-2001/
Elliot Entis, What Have They Done to Our Food?
Keeping Up With Research http://www.ksre.ksu.edu/historicpublications/Pubs/SRL136.pdf   
Keeping Up With Research – A History Of Wheat Improvement At Kansas State:
https://web.archive.org/web/20150228015257/http://www.ksre.ksu.edu/historicpublications/Pubs/SRL136.pdf
Vitamins are destroyed http://thewholetruth.org/Health_Wheat_FAQ.asp
How semolina is made http://www.mitsidesgroup.com/lang/en/about-pasta-flour/about-pasta/how-pasta-is-made/
NIH Celiac Disease http://www.ncbi.nlm.nih.gov/pmc/articles/PMC3945755/