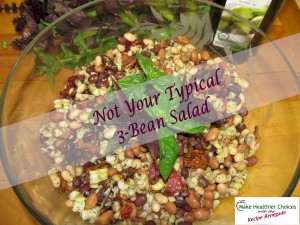 Aside from re-hydrating the sun-dried tomatoes, this colorful, vegan bean salad goes together in minutes and is a hit at any party! You don't have to use the three beans in the recipe, any three will work. I've used butter beans, kidney beans and Roman beans. I always use black and alternate the other two. I've often used jarred tomatoes in olive oil, some even containing Italian seasoning. If using this kind, just omit the olive oil and/or Italian seasoning called for in the recipe. Tomatoes can also be re-hydrated overnight for use the next day.
Bean Salad
Easy to make Bean Salad.
Instructions
Chop tomatoes into bite-size pieces.
Place tomatoes and olive oil in small bowl; let re-hydrate for 30 minutes.
Drain and thoroughly rinse beans.
In large bowl, place beans, corn, garlic powder, Italian seasoning, black pepper, and salt.
Once re-hydrated, add tomatoes.
Mix all together.
Mix in chopped basil just before serving. (It will wilt if left in too long.)
Garnish top with basil leaves.