Bean Salad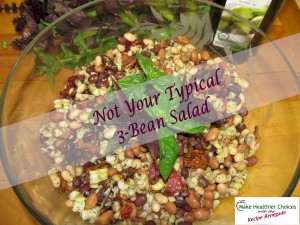 Chop tomatoes into bite-size pieces.
Place tomatoes and olive oil in small bowl; let re-hydrate for 30 minutes.
Drain and thoroughly rinse beans.
In large bowl, place beans, corn, garlic powder, Italian seasoning, black pepper, and salt.
Once re-hydrated, add tomatoes.
Mix all together.
Mix in chopped basil just before serving. (It will wilt if left in too long.)
Garnish top with basil leaves.