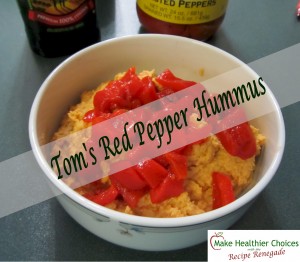 I have not yet found a store-bought hummus I can eat. Unfortunately, I can always taste the preservatives. I know, that's probably a bit odd, but it might be a good thing.
This hummus is quick and easy to make. Everything goes into a food processor, except the red-pepper garnish. Give it a spin and you're done!

Tom's Red Pepper Hummus
An exceptionally easy hummus to make.
Instructions
Drain and thoroughly rinse Chick Peas (Garbanzo Beans).
With knife blade in bowl place all ingredients, excluding one roasted red pepper, into food processor. (If using cumin and Jalapeno, add now.)
Process until completely mixed.
Remove from processor and place in bowl.
Chop remaining red pepper and stir into hummus or place on top as garnish.
Notes
Traditional hummus usually includes cumin. Since I'm not personally a fan of cumin, I've made ½ teaspoon optional. Not everyone is a fan of jalapenos and this recipe tastes delicious with or without the jalapenos.
My very first experience with Chick Peas was when someone told me about a delicious tossed salad that included Chick Peas. I think it had spinach, Chick Peas and balsamic vinegar. Beyond that, I don't remember the recipe. I had never heard of Chick Peas (yes it was many, MANY years ago). I bought some during my next grocery-shopping excursion and tucked them safely away in my pantry for later use.
Weeks later, I finally decided to make that salad. I went to my pantry and looked and looked only to find Garbanzo Beans. those Garbanzo Beans sat in my pantry for probably months as I wondered how I could have purchased Garbanzo Beans instead of the Chick Peas I was looking so forward to adding to the salad.
When I finally cleaned out my pantry a month or two later and found the Chick Peas. As I turned around the can of Garbanzo Beans, there on the other side I found, "Chick Peas." That is when I learned that Garbanzo Beans and Chick Peas are one and the same. Garbanzo Beans are to Chick Peas like Coriander Leaves are to Cilantro! I only learned that cilantro is the leaves of the coriander plant, when I became a gardener.