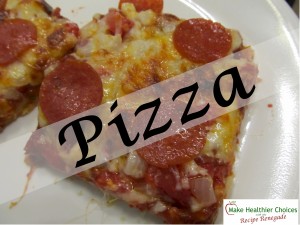 Okay, I admit pepperoni isn't exactly the healthiest food around, but it might be my favorite pizza topping. Honestly, pizza isn't necessarily the healthiest choice either. Homemade and with healthier ingredients it can, at least, be eaten with less guilt. Who doesn't love pizza, right?

Pizza
Instructions
Preheat oven to 425°
Oil pan for Pizza Dough.
Make Pizza Dough and put into pan as instructed.
In medium-size bowl, mix together: diced tomatoes, tomato paste, Italian seasoning, evaporated cane juice, black pepper, garlic powder, onion powder, and Himalayan salt (if using salt) in a bowl.
Evenly spread sauce onto top of pizza dough.
Evenly sprinkle cheddar and mozarella cheeses on top of pizza.
Add toppings of your choice.
Bake at 425° for 25 minutes.
Notes
Do NOT use Himalayan Salt if tomatoes are salted!
This is my favorite kitchen cleaner. I use it, diluted, for my vegetables: