Milk kefir is one of the quickest and easiest ferments to make and it contains a high quantity of beneficial bacteria. There's nothing special to chop, steep, heat up, or cool down. Place milk and kefir grains into a glass jar, cover with breathable fabric, and wait. Strain to remove grains, chill, and drink. It's that easy!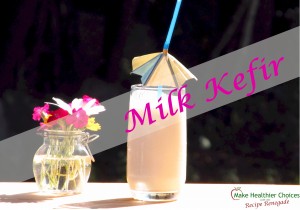 Milk Kefir
Milk kefir is a great way to populate the gut with good bacteria - also known as "probiotics." Goat's milk is the healthiest option, since it's closest to human milk.
Instructions
Place milk in glass jar.
Add Kefir grains.
Cover with paper towel, coffee filter or dish towel (breathable fabric) and secure with rubber band or string.
Let sit at room temperature for about 24 hours.
Check to see if it's done fermenting by slightly tilting. If milk pulls away from sides in a solid mass, it's ready to strain.
When finished, strain to remove kefir grains.
Store finished kefir in glass jar in refrigerator (or it will continue to ferment).
Re-use grains to make another batch of kefir or store them in glass jar in refrigerator in fresh milk for one week.
Milk will ferment more quickly in warmer temperatures and more slowly in cooler temperatures. In the summer, my goat milk ferments  in about 22 hours and cow's milk takes about 24 to 36, while in the winter it can take a couple of days.
Never use ultra-high pasteurized milk. I use raw cow's milk or raw goat's milk, but I'll be honest-I don't love the taste, especially when I use goat's milk. I add maple syrup or hide it in a smoothie to make it palatable. If I use it in a smoothie, I add it last and mix it in on the slowest speed so that I'm not disturbing the bacteria.
Check to see if milk is adequately fermented by slightly tipping the bottle. If it separates from the side in a solid mass that's similar to yogurt, it is done. Once the milk is fermented, strain using only a stainless-steel, mesh strainer (don't believe those rumors that you can't use metal, but make certain it's stainless) to remove grains. Store finished kefir in glass jar in refrigerator and use grains to make another batch of kefir. If the grains won't be immediately used again to make another batch, store them in fresh milk in a tightly-covered glass jar in refrigerator for up to a week. (I've been able to store mine for up to about two weeks. Keep in mind that not changing the milk sooner risks losing the grains.)
If the milk ferments for too long, it will separate into curds and whey. If you're not familiar with whey, this is what it looks like – it's the "watery" looking liquid: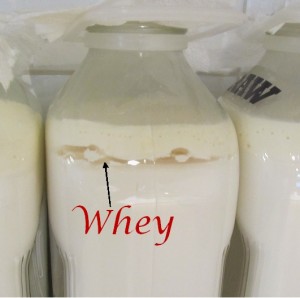 The kefir won't be ruined if it goes that far–just strain as quickly as possible and shake before drinking.
Supplies I use for fermenting and straining: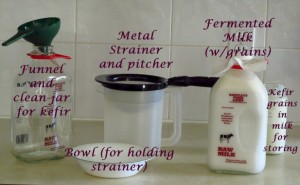 Page 2 Please Don't Eat Your Babies! Click here for lots more info about Milk Kefir (continued) 
Short how-to video: