No More Plaque
I have to admit I was surprised when my dental hygienist said, "you no longer have plaque on your teeth." She also said, "you only have stain from drinking coffee or tea." Then she asked, "Are you using baking soda?" I actually thought to myself, Hmmm…it must be well-known, at least in the dental community, that baking soda removes plaque  and Wow, if I gave up coffee, tea and any stain-causing drinks, what would she do during my appointment?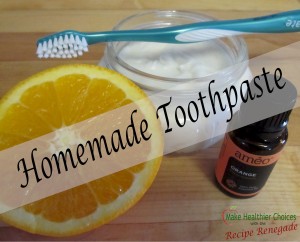 Ralph Nadar exposed the Dirty Dozen in Cancer Prevention News, in the Fall 1995 issue. The toothpaste I used then, Crest Tartar Control, happened to be on that list. I quickly deep-sixed it and moved on to better, more trusted toothpastes. I've only been using homemade for a few years, but I'm sure glad I switched! How do we decide which toothpaste brand to use, anyway?
If you've ever made your own toothpaste, you know it's often too sloppy in the summer or too hard in the winter. Living in New Hampshire, I had to experiment to keep my toothpaste soft in the winter and more solid in the summer. Coconut oil is solid at 76° and stays liquid above that temperature. Not only is coconut oil said to be a teeth whitener, the same is said about orange essential oil.
The Right Consistency
My secrets to keeping it the right consistency:  In winter, I add fractionated coconut oil (FCO) and in the summer, I omit the FCO and add more baking soda. I keep adding baking soda until it's the consistency I want. To make adjustments in temperatures under 76°, it will first have to be heated or added to a food processor (I use this mini-processor). I sometimes use a bigger one and make more at once. Since we all keep our homes at different temperatures, we'll use differing amounts of FCO or baking soda. Start with my basic recipe and go from there—adding either more FCO or more baking soda.
Please give each family member a jar of their own toothpaste.
If you're interested in purchasing Améo products, please contact me via email so I can show you how easy it is to purchase at a wholesale price.

Homemade Toothpaste - The Secret to the Right Consistency
Instructions
If coconut oil is hard, place in mini food processor (or put in small pot on stovetop and warm over low heat just until melted).
Add remaining ingredients.
Process until well blended (or stir until well blended).
If using warmed oil, place in refrigerator and stir every 5 minutes until mixture becomes semi-solid.
Place in glass jar and cover.
Notes
Please give each family member a jar of their own.

*If you would like to purchase Améo Orange Oil, please contact me via email to learn how to purchase at wholesale prices.
I always use organic coconut oil as my base, but for making do-it-yourself recipes like this one, I use the lesser expensive, organic refined coconut oil.
UPDATE: At my most recent cleaning appointment in March 2016, I asked again if I had any plaque. My hygienist said, "No, only stain from coffee." She suggested I get a whitening mouth rinse and added "they contain hydrogen peroxide." Of course, I am not about to use chemical-laden mouth washes, so I'm swishing diluted hydrogen peroxide roughly 1 to 5 parts water. It will be interesting to see what she says in October. I have a filling that needs replacing this time, but I've not had a cavity in the four years I've been drinking Zija International's Supermix which contains a plant–moringa oleifera. Zija International was the company that brought us moringa in an enzymatically alive, bioavailable, easy-to-re-hydrate packet).
If you want to know more about Améo's clinical-grade essential oils or Zija International's Supermix, please send me an email at Lynn at MakeHealthierChoices.com .
Please note that you might not have the same results.