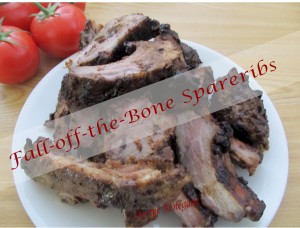 Fall-Off-The-Bone Spareribs with Rib Rub
These Spareribs can be pork or beef. They are delicious and literally fall off the bone.
Ingredients
4½ Pounds Baby Back Ribs
2 Tablespoons Olive Oil

For Rib Rub:
¼ cup Muscovado
1 Teaspoon Garlic Powder
1Teaspoon Onion Powder
¼ teaspoon Cayene Pepper Powder
Instructions
Rub ribs with olive oil and set aside.
Make rib rub: In small bowl, combine Muscovado, garlic powder, onion powder and cayenne pepper. Stir until well mixed.
Completely cover ribs with Rub mixture, rubbing mixture into the ribs.
Wrap ribs in a large piece of heavy-duty foil (about 28" x 18") and seal the edges.
Refrigerate overnight or for up to 24 hours.

Bake in covered grill over *indirect medium heat (275°) for 2 hours.

While ribs are cooking, make this Barbeque Sauce.
When ribs are finished baking, put a small amount of barbeque sauce into a small cup or bowl to use for basting.

Cook remaining sauce on stovetop or grill on low heat for about 20 minutes.
Baste ribs with uncooked Barbeque Sauce and place on direct medium heat on grill, cooking for about ten minutes on each side.

Throw out sauce that was used for basting.

*Indirect heat - light one side of the grill and place the ribs on the opposite side. This creates an oven for baking.