Someone is always asking: Which is better – juicing or blending?
Which is better? Juicing juice or blending smoothies? If you're looking to improve health, there's no question. Juicing removes the pulp/fiber which allows the body to quickly absorb nutrients. Using a blender, even a high-priced blender, keeps the fiber which slows nutrients from entering our bloodstream.  Because the fiber remains in a smoothie, we feel fuller and it's impossible to get the quantity of nutrients available with juicing. We simply can't drink that much fiber. There's a reason Gerson Therapy® uses juicing–juicing can improve health. Don't get  me wrong–smoothies can be beneficial, too, especially when we replace non-foods with real food.
In case you don't already know, "The Gerson® Therapy is a natural treatment that activates the body's extraordinary ability to heal itself through an organic, plant- based diet, raw juices, coffee enemas and natural supplements."
I was long overdue when I finally replaced my centrifugal juicer with a masticating juicer. I knew the masticating juicer had a bigger health benefit; the only thing holding me back was the price. My Jack LaLanne juicer had served me well for many years and was a good price at under $100. I purchased it when I was first becoming a 'foodie,' and knew nothing about juicing and probably less about health and wellness. A masticating juicer is easy to disassemble and cleans up fast. The pulp is much drier and my chickens love it. (Coming soon – my cracker recipe using all that pulp!)
When researching
juicers
, one quickly learns the health benefit isn't the same for all juicers. A masticating juicer keeps the enzymes alive longer than a centrifugal juicer, since the centrifugal can heat up. My personal experience proves centrifugals are harder to clean. Much harder to clean. That alone is reason for me to choose masticating over centrifugal. The surface area of the strainer that's exposed to the fruits and vegetables in a centrifugal is much, much larger than a
horizontal masticating juicer
. The strainer in the
Omega horizontal
is tiny in comparison.
My Omega NC800HDS  juicer is not only capable of juicing fruits and vegetables, making nut butters, and making frozen desserts, but can juice wheat grass, and extrude pasta.  Even though pasta isn't a staple in my home, I'm happy to have a way to make it using my own healthier ingredients, like glyphosate-tested Jovial's Einkorn Flour. It's great that I not only didn't have to pay for extra parts to use this for more than a juicer, but I also didn't need to find extra space in my kitchen to store other big, clunky accessories.
Four things that impress me most about my Omega juicer:
1. It goes together and comes apart easily and quickly. (I like that I don't need my reading glasses to put it together or take it apart.)
2. I can juice wheatgrass.
3. It comes with extra parts to make desserts and pasta.
4. And best of all—cleaning is a breeze. I spend much more time washing my fruits and vegetables than I do washing this juicer. A brush is included which makes cleaning the strainer easy.
Why I chose the Omega NC800HDS over other masticating juicers:
1.  Successfully juices wheat grass without purchasing extra parts.
2.  Makes frozen fruit sorbet/desserts without purchasing extra parts.
3.  Horizontal model is easy to clean, with less parts than the vertical model.
4.  Includes 6 nozzles and 1 juicing screen.
This particular model, according to the Omega website, has a 'bigger' chute for the fruits/vegetables. The Omega website states, "The size of the feed chute is larger so you spend less time prepping before juicing." (I would honestly hate to see the smaller chutes because it is quite small.)
Two things I learned about this juicer:
1. The drum locking clip tends to stick. I keep a spray bottle with water handy and, after unplugging the unit, I carefully spray the drum locking clip to force out any juice so it won't stick.
2. The juice strainer sometimes needs extra cleaning. I need to occasionally soak the juice strainer in hot water and dishwasher detergent and scrub it with a toothbrush. I then wash and rinse. (Never put any parts in the dishwasher!)
I always juice more fruits and vegetables than I can immediately drink. Although it's recommended to immediately drink the juice before nutrients start to degrade, I seal leftover juice in a canning jar with my Foodsaver Jar Sealer and store in refrigerator. Below is my juicer and the Foodsaver I would buy (with the roll storage) if I needed a new one:
Please note: This is NOT a paid review.
I will let you in on a little secret: I love juicing, but can't always find the time to juice daily or don't have enough fruits and vegetables on hand, especially in the winter. What I do find time for is–opening a packet of Zija International's
moringa oleifera
, adding to clean water and re-hydrating overnight.
Moringa oleifera
is nature's most nutrient-rich plant.
Zija's moringa oleifera
has been shade dried to keep the best nutritional value. I drink it every day on an empty stomach and know I'm replacing nutrients that have been lost in our food chain. Scientists agree it takes 40 cups of spinach today, to equal the nutrients we got in just one cup, yes, ONE cup in the 1960's.
Grab this eBook while it's free!  The 40 Best Quick and Easy Juice Recipes: – for Better Health, Weight Loss and Delight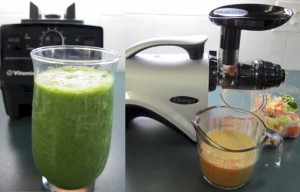 The Norwalk is said to be the best juicer available. With a $2500 price tag, it's clearly not for everyone, including me. If I was ever told I had cancer, though or seriously suspected I had cancer, I might desperately search for a way to purchase this juicer so that I could properly follow the Gerson® Therapy.