Zucchini and Yellow Crook Neck or Straight Neck are not only fruits, all three are summer squashes. The supermarket tries to trick us into thinking that Zucchini isn't summer squash by placing signs over the zucchini that say, "Zucchini" and "Summer Squash" over all the other  summer squash. If a squash is harvested in the summer, it's a summer squash. If it's harvested in the fall, it's a winter squash. Plain and simple. This recipe is exceptionally quick and easy.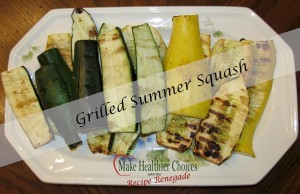 Grilled Summer Squash (Zucchini and Crook Neck)
This has to be one of the easiest grilling recipes - ever!
Ingredients
4 Small Summer Squash
4 Tablespoons Butter
3 Garlic Cloves
Instructions
Melt butter over low heat.
Press garlic and stir into melted butter.

Wash and cut squash lengthwise.
Baste squash with butter/garlic mixture cooking over medium heat on grill for approximately 8 - 10 minutes on each side.