These delicious, grilled shrimp are always a big hit. Although sometimes hard to find, I use wild caught shrimp that do not have sodium tripolyphosphate added as a whitener/preservative. Wild caught fish are always a better choice than farmed fish.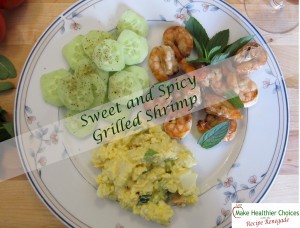 Sweet and Spicy Grilled Shrimp
This is an easy grilling recipe that is sure to please!
Instructions
If using fresh shrimp, skip this step. Place frozen shrimp in a colander and place in bowl or pot; cover withcold water and allow to sit for about 10 minutes.
While waiting for shrimp to thaw, make marinade by mixing remaining ingredients in a bowl or plastic bag.
If shrimp are not yet thawed, replace water with fresh, cold water and let sit another 5 minutes.
When shrimp are thawed, drain to remove water and add shrimp to marinade mixture.
Marinade shrimp for 30 minutes. DO NOT allow shrimp to sit in this mixture for longer or the citric acid might cause shrimp to dry out.
Tails may be removed or left on for cooking.
Place on skewers or in grilling basket.
Grill until inside has turned white and no longer clear, flipping every 2½ minutes for a total of approximately 5 minutes on each side. Please note - size of shrimp will affect cooking time. Be certain to cook shrimp until inside is no longer clear on inside. Do not overcook.
OPTIONAL: Garnish with fresh mint.
Please note that brown sugar can be used instead of muscovado.