This recipe was created of necessity on a hot summer day. Working in my garden all day I needed a quick, easy recipe I could pop into the oven to cook while I continued to work outside. I assessed ingredients on hand and created this delicious casserole. I was short on mozzarella cheese, so I added cheddar. A sharp cheddar is the key to this flavorful lasagna. This has become our favorite "Meatless-Monday Meal" during the summer.
I'm not calling this a "vegetable lasagna" because both zucchinis and tomatoes are fruit. Take our Are You Smarter than a Turnip? quiz to see if you know the difference between a fruit and a vegetable.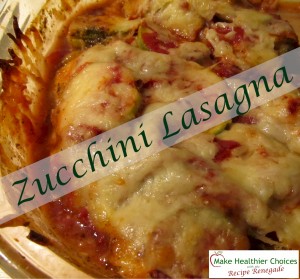 If possible, use fresh tomatoes. Considering this recipe uses canned tomatoes, it's not too terribly high in the sodium department. If rBGH-free cheese (especially if it's goat cheese) is available, tomatoes are organic/cans BPA-free, and remaining ingredients are organic, this makes a "relatively" healthy meal with less than 1/3 RDA of sodium per serving. Fresh tomatoes reduce the sodium even further. Although this takes about an hour to cook, it only takes about 10 minutes to put together and get into the oven.

Zucchini Lasagna (Casserole)
Delicious no-meat lasagne.
Ingredients
4 average-size Zucchini
1 28 oz. Can Tomatoes (diced) or 28 oz. Fresh Tomatoes
1 6 Oz. Can Tomato Paste
2 Tablespoons Muscovado (or Evaporated Cane Juice)
1 Tablespoon Italian Seasoning
3 Cups Shredded Sharp Cheddar Cheese
4½ Cups Shredded, Aged Mozzarella
Instructions
Slice zucchini into ⅛" slices (vertical or horizontal) and set aside.
In medium-size bowl mix together: tomatoes, tomato paste, muscovado and Italian seasoning.
Spread (about ¾ cup) tomato mixture on bottom of 13 x 9 casserole dish.
Add a layer of zucchini.
Spread (about ¾ cup) tomato mixture on top of zucchini.
Add 1 cup cheddar and 1½ cups mozzarella evenly over tomato mixture.
Add two more layers of zucchini, tomato mixture and cheeses.
Cover with aluminum foil and bake at 400° for 45 minutes.
Uncover and bake an additional 10 minutes or until top is slightly browned.
Please note: Salt is not needed as the cheese and canned tomatoes contain salt. The cheddar cheese can be omitted, but it adds a LOT of flavor! The next time I make this, I might substitute nutritional yeast for the cheese. Makes about 9 good-size servings.