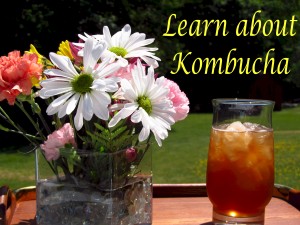 Kombucha is a delicious beverage made by fermenting sweet tea. It is acidic with a slight vinegar taste.  An Internet search yields a wealth of information regarding Kombucha, its origins and nutritional benefits. I like fermenting for food preservation, good bacteria (probiotics) and additional nutrients. Fermented foods are pre-digested and easier on our digestive systems.
Some companies add sugar after the Kombucha is fermented making it more palatable. I like to stay away from those brands and prefer making it myself.
Making Kombucha requires a culture called a SCOBY. SCOBY is an acronym for Symbiotic Colony of Bacteria and Yeast. The SCOBY, also known as "mother," "mushroom," or "pancake," does the fermenting. Sugar feeds the SCOBY and should be eliminated, or at least almost eliminated, when the fermenting is complete. Once fermented, it will no longer taste like tea and there will be a new (second SCOBY) on top. Use the new SCOBY for the next batch and store the old SCOBY in a closed glass jar in the refrigerator for another batch, Kombucha Kandy, or give to a friend!
When this new SCOBY begins to form, it will make bubbles. These bubbles can easily be mistaken for mold. If mold does form, the entire batch needs to be thrown out. Be patient. Don't be too quick to dispose of your first batch; wait and see if the "mold" turns into a SCOBY. I threw out my first batch of Kombucha mistaking the SCOBY bubbles for mold. If you think you have mold, ask an expert. If in doubt, yes, throw it out.
If you're lucky enough to know someone who makes Kombucha, you might score a free SCOBY. It's also possible to grow one with commercial Kombucha if it contains probiotics. Place it in a jar, cover with a paper towel, place rubber band around opening to keep out flies, etc., place on counter and wait. If all goes well and depending on weather, a new SCOBY will have formed in about 10 days. If a new one doesn't grow, there are no live cultures or the conditions aren't right.
Some people strain the brown yeast from their Kombucha. Unless there's a large amount floating around, it doesn't bother me. Even though that ugly brown stuff is yeast and not bacteria, it is beneficial for the gut. You can read more about good yeasts and probiotics here: Probiotics and Fermented Food
Please properly rinse and remove all detergent residues from any containers, utensils, etc. before using for Kombucha, as detergent can kill the SCOBY. Chlorine and honey can also kill the SCOBY since they have antibacterial properties. City water that contains chlorine will not work unless the chlorine is first removed. Keep in mind, anything that's meant to kill bacteria can potentially kill the SCOBY.
While some metals are said to kill SCOBYs, I've found this isn't true with stainless steel. Do NOT use any metal other than stainless steel! Nourishing Traditions says it's even okay to store the SCOBY in stainless steel in the refrigerator, although I prefer glass. Mason jars work fine. NO PLASTIC!
My family drinks large amounts of Kombucha. At any time, I may have up to six, 2.15 gallon containers brewing—especially in the summer. ALWAYS USE A GLASS CONTAINER when fermenting! Make sure you use a container slightly larger than the amount of water called for in the recipe. If you don't have a container large enough, and there's a little sweet tea left, it's okay to drink. Put some Kombucha aside for your next batch!
CAUTION: Never store in or drink Kombucha from plastic and NEVER shake it—it's effervescent and can explode! When finished fermenting, store in refrigerator at 37°. NEVER eat or drink ANYTHING that does not taste right!!! Nourishing Traditions mentions some people may have an allergic reaction to Kombucha and advises if this happens, to use beet kvass for several weeks to detoxify before trying Kombucha again. If possible, purchase Nourishing Traditions cookbook; it's a great book and well worth the price.
It's a good idea to use pH strips to test if Kombucha is finished. Tasting can work, too. If it tastes sweet it's probably not ready. Continue to test every 8 to 12 hours. When Kombucha is ready, bottle into glass bottles and tightly cap.
If you're new to making Kombucha, you might want to purchase a starter kit like this one:
SUGAR: Organic white sugar or organic evaporated cane juice are the best sugar choices; the main job of the sugar is to feed the SCOBY. Do not use honey, rapadura, muscovado, etc. Always use organic.
FERMENTING NUMEROUS ITEMS: if you are fermenting numerous, different items like yogurt, kefir, sauerkraut, etc., make certain to keep several feet between them as the cultures can contaminate each other!
For more information about fermenting and Kombucha's nutrients, go to this informative article by Sally Fallon Morell, the founding president of Weston A. Price Foundation, founder of A Campaign for Real Milk, and author (with Mary G. Enig. Ph.D.) of my favorite cookbook— Nourishing Traditions. http://www.westonaprice.org/health-topics/kvass-and-kombucha-gifts-from-russia
Click here for Kombucha Recipe