Soluble fiber is said to aid weight loss since it not only slows food from leaving the stomach, which keeps us feeling fuller, it also helps slow the rate at which sugar gets into the bloodstream.
These delicious gluten-free Brownies have 23 grams of soluble fiber – almost a day's requirement – in each serving! Try my gluten-free chocolate sauce on top!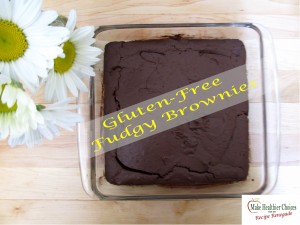 Gluten-Free Fudgy Brownies
Instructions
Preheat oven to 350° F. (If using metal pan, preheat to 325°.)
Drain and thoroughly rinse black beans. Let drain in strainer for about 5 minutes to remove water.
Lightly grease an 8 x 8 glass baking dish with Coconut Oil.
With knife blade in place, put first seven ingredients in food processor and process until smooth (about 1 minute).
Add Pamela's Baking and Pancake Mix, Himalayan Salt and Muscovado/Demerara and process until smooth.
Scrape sides and process for another 30 seconds.
Pour into 8 x 8 greased baking dish and spread into corners.
Bake for 25 minutes. Be careful not to overcook!
Cool for 15 to 30 minutes before cutting.
Adding 1/2 Teaspoon
Baking Powder
and omitting additional egg yolk will give a more cake-like brownie.