Warm or cold, this gluten-free sauce goes with almost anything. Try it on top of our gluten-free brownie and ice cream for a delicious brownie sundae.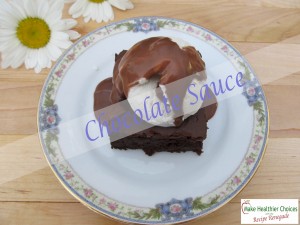 Gluten-Free Chocolate Sauce
This is a delicious sauce made with real-food ingredients that goes especially well with a
brownie
and ice cream.
Ingredients
2 Cups Heavy Cream
¼ Cup Butter - cut into 1 tablespoon segments
½ Cup Cacao
¼ Cup Maple Syrup
½ Cup Muscovado
⅛ teaspoon Himalayan salt
1 Teaspoon Vanilla Extract
Instructions
In a small pot on stovetop, heat heavy cream to just before a boil (about 180°). Remove from heat.
Add cacao and mix until smooth.
Add butter, salt, maple syrup, muscovado and return to burner.
Cook, stirring constantly. Remove from heat when butter is melted.
Stir in vanilla.
This sauce is delicious and goes well with this Brownie.