I hesitated writing anything about vaccines, because it's such a controversial subject. Although, I'm not so sure I understand why it's considered controversial. Every parent has the right to question and should question what might be injected into themselves and especially their children. I felt compelled to share information after having a recent conversation about chickenpox and shingles, and particularly after watching the videos below.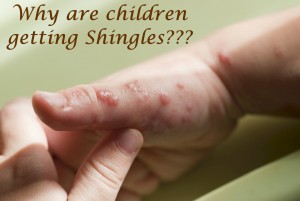 I hope you'll find time to watch The Greater Good. I found time to watch it over a couple days while working in my kitchen. An internet search might turn up a chance to watch it for free.
Please note this information is posted for informational and news purposes and is NOT to be construed as medical advice nor intended to diagnose, prescribe, treat, prevent or cure any disease, condition, illness, or injury. Please use common sense. If you watch these videos and have ANY questions, please discuss them with your doctor.
Good Parents Vaccinate, Right?
Like any good parent, I made sure my daughter was always up-to-date on her vaccinations. It was an era with no Internet, no World Wide Web, no information highway. We didn't question anything; we simply trusted our doctors because they were smarter than we were, right? At least that's how I was brought up. We go to a doctor, he figures out what's wrong, he fixes us. By the way, I say, "he" because as a kid I never saw a female doctor.
The poster found HERE adequately shows what my daughter received in the 1980's for vaccines: Polio, DTP (Diphtheria, Tetanus, Pertussis), and MMR (Measles, Mumps, Rubella) in 13 doses. Today children are vaccinated for, well, too many to count. Here's the CDC's vaccine list and schedule: Recommended Immunization Schedules for Persons Aged 0 Through 18 Years UNITED STATES, 2015.
How does Nature Protect Us from Shingles?
Much information is available, by credible sources, that the absence of being exposed to chickenpox is causing a rise in shingles. Information everyone should know. Since the chickenpox vaccine is a live vaccine, shingles can also be caught from someone recently vaccinated. It's hard for me to understand why we would vaccinate for a mild disease that doesn't even require a doctor visit, when it's causing a disease that's much more deadly. Shingles barely existed when I was a kid. Common sense tells us: Something has changed to cause a 39% increase in shingles.
I only began questioning vaccines a few years ago, after a vaccine discussion in my veterinarian's office. My recent research taught me the MMR (measles, mumps, rubella) and chickenpox vaccines are live and it's important to keep vaccinated people away from cancer patients, those who are immune compromised, etc. I sometimes wish I hadn't looked into this subject – ignorance can be bliss, right? When I Googled, safety of vaccines, many more anti-vaccine sites were listed than pro-vaccine sites.
I think it's important for parents to make informed decisions for both their children and themselves. No matter the decision we make it should be with information from both sides. I believe uneducated complacency and compliance can sometimes be frightfully dangerous. I've included a few videos here that made me look at the vaccine schedule differently.
I can't imagine what it would feel like to be a young parent today deciding if my child should or should not be vaccinated. While I wouldn't consider myself an anti-vaxxer, I will admit I'm personally against vaccines that:
Simply don't make sense
Are meant to prevent a disease that would not even require medical attention (like chickenpox)
Cause worst diseases than the disease it's meant to prevent
Contain numerous toxins and aborted fetal cells
Vaccinate babies for sexually transmitted diseases (Call me crazy, but I don't think babies are having sex.)
Another Interesting Video
I mentioned to someone I might not post this video, and they said, "What if it IS true? Shouldn't you present it and let people make up their own minds?" I had to agree. It's disconcerting to think the information revealed in this video might have something to do with why 13 US doctors (and 2 more recently in Canada) have died.  
Erin Elizabeth at Health Nut News,
 has reported extensively about these doctors. (UPDATE: As of today, 6.25.2016 the count is up to over 40!!! UPDATE 7.13.2016 the count is over 50!!!)
Did Bill Gates Really Say That?
In this video, Sanjay Gupta interviews Bill Gates. Mr. Gates talks about vaccines "reducing the population growth." It's surely disturbing to hear "reducing the population growth" when it's in reference to vaccines. What exactly did he mean???
I Didn't Like Learning About These Ingredients
I was disgusted (and honestly creeped out), when I learned vaccine ingredients MRC-5 and WI-38 are from aborted human, female fetuses. I don't understand why we took formaldehyde out of our science classrooms, yet it's okay to be injected with it. We know MSG (monosodium glutamate) is a neurotoxin and we're supposed to follow hazmat protocol when we break a mercury thermometer. MSG and mercury (Thimerosal) are still in some vaccines. You can see the CDC's list of vaccine ingredients here: Vaccine Excipient & Media Summary

Former Pharmaceutical Sales Rep Speaks Out
I'll admit I agree with Brandy Vaughn, that we need to research BEFORE our children are injected with ANYTHING whether it's a vaccine or something else. "Mexico pulled their entire vaccine schedule . . . yet we are mandating."
Here's what the Vatican had to say about vaccines containing aborted fetal cells: 
On Vaccines Made From Cells of Aborted Fetuses
Robert F. Kennedy, Jr.  – Vaccine Whistleblower
Sarah, The Healthy Home Economist, reported the CDC admitted SV40, a cancer-causing virus, was found in polio vaccines between 1955 to 1963.
UPDATE: 7.13.2016 I learned this important information from the documentary, VAXXED:
Taxpayer money funds the Vaccine Injury Court
Studies showed the MMR vaccine DOES, in fact, cause autism because the data was manipulated/omitted to give an impression that it did not cause autism (i.e NO this was NOT debunked!)
I hope you'll consider signing this petition to ask congress to take action!
~~~~~~~~~~~~~~~~~~~~~~~~~~~~~~~~~~~~~~~~~~~~~~~~~~~~~~~~~~~~~~~~~~~~~~~
The PRO-Vaccine Side
I think this side of the vaccine debate more or less says: Science proves they save lives.
How the CDC Monitors the Safety of Vaccines
How Safe are Vaccines?
There are videos available at this site including Vaccines: Separating Fact from Fear. From the Immunization Action Coalition – Vaccine Information for the public and health professionals. 
Like I said before, much more anti-vaccine than pro-vaccine info came up while researching. Please remember this information is posted for informational and news purposes and is NOT to be construed as medical advice nor intended to diagnose, prescribe, treat, prevent or cure any disease, condition, illness, or injury. Please use common sense. If you watch these videos and have ANY questions, please discuss them with your doctor.