Sometimes it's hard to differentiate between fact and fiction on the Internet. Especially when it comes to Kombucha. Myths about Kombucha are found everywhere.
"I don't drink Kombucha because of the sugar."
A properly fermented, home-made Kombucha will have little to no sugar. I admit I don't like to ferment mine so long that there's no sugar left. At some point I'll purchase a test kit to know how much sugar is in my kombucha. Be careful of commercial brands – some add sugar after the fermenting is completed to make it more palatable. Let's admit – after tasting something as tart as kombucha – not everyone will want to try it again.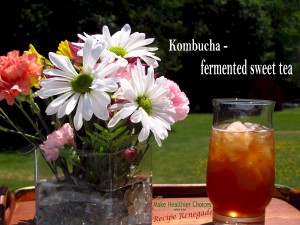 "There are no probiotics in Kombucha."
Probiotics are live organisms like yeasts and bacteria that promote life. "Pro" means "for" + "biotic" means "life." Probiotic means for life. Kombucha can't be made without a SCOBY, which is also known as a "mother," "mushroom," or "pancake." SCOBY means Symbiotic Colony of Bacteria and Yeast.
If the bacteria and yeast in our kombucha wasn't live, it would be impossible to grow our own SCOBY.
Populating our guts with good yeasts and good bacteria promotes life.
A consensus definition of the term "probiotics," based on the available information and scientific evidence, was adopted after a joint Food and Agricultural Organization of the United Nations and World Health Organization expert consultation. In October 2001, this expert consultation defined probiotics as: "live micro-organisms which, when administered in adequate amounts, confer a health benefit on the host."
 "Kombucha isn't good for us because tea contains lots of fluoride, so Kombucha has lots of fluoride in it"
If organic tea, and clean, un-fluoridated water are used, there shouldn't be any fluoride in the kombucha unless it's a small amount of naturally-occurring fluoride. I think there's a big difference between a small amount of fluoride that might be found naturally and large man-made amounts that are added to water.
It's essential to always use clean water that does not contain fluoride, chlorine, or any other toxins, when making our own kombucha.