When I was a kid, my mom always "par-boiled" the chicken before it went onto the charcoal-briquette fire on the grill. When I became an adult, I skipped that step. I'm not sure why, but I did. Only recently, since I love chicken bone broth, did I start par-boiling again. I've learned it's a necessary step that shouldn't be skipped and keeps the chicken moist and tender. Be careful to not overcook!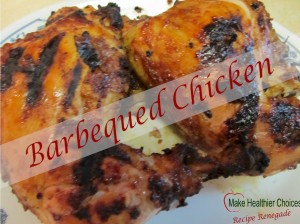 Grilled Chicken with Barbeque Sauce
Grilled Chicken with Barbeque Sauce
Instructions
Par-boil chicken for 25 minutes.
Prepare Barbeque Sauce.
After 25 minutes, remove chicken from water.
Place on grill; cook 5 minutes on each side.
Baste one side. Place basted side down and cook 5 minutes. While that side is cooking, baste other side.
After the five minutes, flip and cook second side for 5 minutes.