Homemade Toothpaste - The Secret to the Right Consistency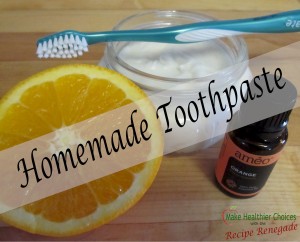 If coconut oil is hard, place in mini food processor (or put in small pot on stovetop and warm over low heat just until melted).
Add remaining ingredients.
Process until well blended (or stir until well blended).
If using warmed oil, place in refrigerator and stir every 5 minutes until mixture becomes semi-solid.
Place in glass jar and cover.
Please give each family member a jar of their own.

*If you would like to purchase Améo Orange Oil, please contact me via email to learn how to purchase at wholesale prices.
Recipe by
Make Healthier Choices
at https://makehealthierchoices.com/homemade-toothpaste-secret-to-the-right-consistency/