Flaxseed Banana Bread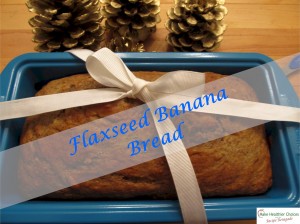 Preheat oven to 350°.
Grease bottom of 9 x 5 loaf pan with coconut oil.
Place all ingredients in mixing bowl.
Mix together until all ingredients are well blended.
Pour into prepared loaf pan.
Bake at 350° for 55 minutes or until toothpick inserted into center comes out clean.
Slide butter knife around edges of pan and remove to cooling rack.
Allow to completely cool before cutting.
GLUTEN-FREE VERSION: Replace 2½ Cups Jovial's All-Purpose Flour with 2 Cups Pamela's Baking and Pancake Mix, eliminate salt and add 1 extra egg and 1 extra banana. Bake for 45 minutes at 350° or until toothpick inserted in center comes out clean.